Period Property for Sale in Co. Mayo
Glenlossera Lodge, Ballycastle, Co. Mayo
Period property full of history and style in an exceptional location by the Atlantic Ocean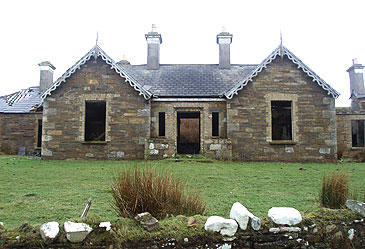 This unique property combines an exceptional location by the Atlantic with a period property full of history and style. The lodge was built in the mid 1850s as the main residence of an estate comprising 3635 acres acquired by Zachary Mudge (1814-1867) from the Encumbered Estates Commission in January 1854 for 2490 pounds, most probably as a commercial enterprise. The Mudge family originated from Devonshire and they have links to the renowned 18th century portrait painter Sir Joshua Reynolds (1723-1792) who also hailed from Devonshire. The Mudge ownership gradually reduced in Mayo over the next 70 years with the sale of the remaining 2731 acres taking place in 1927 to the Irish Land Commission. Thereafter the lodge was next owned by the Moran family and was sold again in the 1950s to the present owners. It has become derelict over the years but full planning permission for full restoration was granted in 2008.
Built with locally sourced pale yellow sandstone with mica, the windows, doors and chimney stacks are all in imported pale yellow brick and the roof covering was in black Welsh slate. Glenlossera Lodge is stylistically similar in many ways to the cottages and ancillary structures of estates elsewhere in the British Isles of that period. The building features a most unusual arrangement consisting of three blocks with a central symmetrical block (14x7m) featuring elaborately decorated flat gables with a receded central door flanked by two narrow slit windows that once featured cast iron diamond pattern window frames. Behind the main block are two almost symmetrical flanking blocks. The southern block (15x6m) contains the bedrooms and the northern block (12x6m) contains the kitchen and other ancillary staff quarters. Glenlossera is a most unusual building being designed in a style atypical of other conventional and traditional Mayo buildings and is therefore architecturally stylistically and socially significant.
The property is on 7 acres including sporting rights thereon. In addition, approximately 900 acres of additional sporting rights are mentioned on a property transfer document from 1927 as well as fishing rights in the Glenlossera River, which have not been exercised. The property is offered with the benefit of full planning permission for restoration. It could be transformed once again into one of Co. Mayo's finest and most unique properties.
Price: REDUCED TO SELL - €125,000
Last update: 19th March 2015
Contact: Schiller & Schiller - www.irishproperties.com
Tel.: +353 (0)71 9163284
Mobile: +353 (0)87 2500974
Email: info@irishproperties.com