Period Property for Sale in Co. Cork
Farmhouse, Liscubba, Clonakilty, Co. Cork
Unique Clonakilty farmhouse, with two barns, guest apartment and artist's studio on 2.5 acres
The home is in a very private, rural stetting, well back from the road, and yet only eight minutes from Clonakilty. It has approximately 3300 sq. ft. of living space with a total of four bedrooms and three bathrooms.
The main home consists of three bedrooms, a huge kitchen/dining room and morning room, conservatory and two bathrooms. The ground floor of the main home has dyed concrete floors plus terracotta tile and plank wood floors. The upper floor has cork tiles and ceramic floors.
The farmhouse has its own well and a new septic tank and drain field. There are new PVC windows throughout and the property has been rewired and re-plumbed.
Other features include a new PVC conservatory, oil central heating with a solar panel water heater and two stunning herringbone brick fire-places.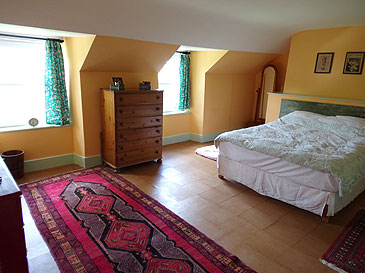 Outside there are landscaped gardens, a 245 sq. ft. studio,  a large 2500 sq. ft  barn and a smaller 1000 sq. ft. barn and some pasture land. There is also one stone shed, previously a stable, currently used as a car garage.
The guest apartment which adjoins the house has it's own separate entrance, a separate kitchen/living room and stairs to a bedroom and en suite bathroom. The apartment is separated from the main home by a door, but could easily be blocked off for rental purposes.
The new owner of this farmhouse will enjoy beautiful rural views, with mature trees and many more recently planted trees on the grounds.
Price: €399,000
Last update: 8th September 2016
Contact: Rosie Wright
Phone: 023 886 9194
Email: deltarosie@gmail.com