International Period Property & Sites For Sale
The properties that appear on this page are a small selection of interesting properties for sale around the world. They are either for sale by the owners, by Irish agents dealing in international property or by foreign agents who wish to advertise in Ireland.
Large Plot, Alymirida, Vamos, Chania, Crete, Greece
Located only 2km from the popular holiday beach resort of Alymirida, this spacious level plot of 4,700 square meters has over 80 mature olive trees and over 90 meters of frontage on a quite country road. The concrete base for the house has recently been installed on the plot and the Quadlock system building materials have been delivered and are...
Click here for full details>>>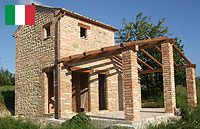 (Restored) Barn, Sarnano, Le Marche, Italy
This little house has been newly built on the footprint of a former barn. It sits in a very special location which is very private and rural, but it is only 2km from the medieval town of Sarnano. The house is in the centre of almost 2 acres (7320m2) of grassed land with stunning views of the Sibillini mountains, ski resorts and of Sarnano's medieval centro...
Click here for full details>>>
Ruined House, Cessapolombo, Le Marche, Italy
This is a very picturesque site of 1.75 acres with a ruined house. The property comes with plans and full planning permission for a house of around 150 m2. The land runs from the main road to the historic castle town of Caldarola, down to a river, which marks the boundary of the Sibillini National Park. There are many large mature oak trees on the...
Click here for full details>>>
If you are the owner of a period property outside Ireland and would like to advertise it for sale here please contact us with the details. Listings are €75, which also includes a feature on our facebook page. Listings are for unlimited time, there are no renewal fees, and you can include several images.