Be Inspired
Have you ever seen a derelict or abandoned building and thought about trying to buy it and turn it into a house? The featured projects on this page show what can be done with a bit of imagination and patience. What once were old crumbling buildings can be turned into beautiful homes. There are also examples of the work of specialist craftspeople based in Ireland who can breathe new life into these old buildings.
The Yank's House, Co. Longford
"From the start I was enchanted by the house and I wanted to know everything about it. Questions were spinning round and round in my head. Who built it? When? Had it been a happy house? Had children lived here? Why had it been left to get into such bad repair?" Find out the answers to all these questions at this inspirational blog.
Click here to visit the Yank's House blog.
North Kerry Farmhouse
This stone and mass concrete farmhouse was bought in September 2012, along with adjoining lands and outbuildings. It had belonged to the Collins family since it was built and had been maintained in perfect condition. We initially thought the house was built in 1922 but in fact that was just when it was taken up to second floor level...
Click here to follow the progress.
Kyle Park National Agricultural School
Michelle Dunne is the owner of Kyle Park National Agricultural School. This is a protected structure and in 2011 she had a feasibility survey completed. In February 2012 she applied for planning permission with North Tipperary Council to convert the school into a domestic dwelling. She is hoping to start restoration work in the next year.
Click here to follow the progress.
Castle Restoration
The owners of Tullaun Castle spent 4 years searching for ancient ruins with a view to finding the ideal tower house to restore. That search eventually led them to this castle and they are now starting out on the long journey of restoring it. Tullaun Castle is an O'Kennedy tower house in North Tipperary. It's in a very scenic location and is surrounded...
Click here for details and pictures.
Church Conversion
Formerly a Church of Ireland Chapel, this famous local landmark was originally built in 1808 and exactly 200 years later the current owners moved in. The church was deconsecrated in 1920 and had been used as an Irish Army billet, dancehall and workshop. There are some interesting architectural features such as cut stone window and door frames.
Click here for details and pictures.
Magherintemple Gate Lodge
The Irish Landmark Trust
completed the restoration work on this project in June 2011 and it is now available as self-catering accommodation. It is a beautiful building situated just outside the town of Ballycastle in Co. Antrim
. Magherintemple Gate Lodge is interesting not only because of its architectural history but also because of its historical importance.
Click here for details and pictures
.
Stained Glass Church Windows
As part of the restoration of Swords Castle GlassHaus Studio in Navan in Co. Meath designed, manufactured and installed five new stained glass windows in the early 14c. style for a church at the front of the castle grounds. The project included four large aisle windows based on the Four Evangelists and a fifth window situated behind the altar...
Follow the process from initial drawings to installation by clicking here
.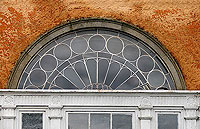 Anaverna Fanlight, Georgian House
GlassHaus Studio were commissioned to remove an existing fanlight from the front entrance of a Georgian House in Co. Louth and then manufacture and install a new fanlight to the exact specification of the original. A specific lead profile was made in England and the fanlight was constructed using an original technique that was used to make...
Click here for more details.
If you are renovating an old property and would like to have it included on this page we would love to hear from you. Please contact us with the details and we will create a page for your project.