Restore a Period Property in Ireland - Articles & Advice
Highlights and Pitfalls of Restoration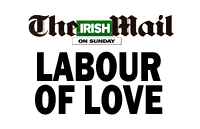 From TV shows to your builders suppliers, restoration is very 'now'. Garreth Murphy from the Irish Mail on Sunday reports on the highlights - and pitfalls. Who hasn't felt a tug at the elbow when watching Grand Designs or Restoration on TV on a cold winter's night and heard the words: 'Wouldn't it be great if we could buy an old cottage and do it up?'
Of course it's easier said than done and may end up blowing a hole in your budget - for a prime example see Tom Hanks' film, The Money Pit, in which he comes close to losing his sanity, too. Hollywood may be prone to exaggerate, but there's no getting away from the fact that large-scale restoration jobs are not for the faint-hearted.
"To take on a restoration job you've got to have a passion for the project and a large budget," says Tom Howard, a builder who specializes in the area of restoration and conservation of old houses. "Invariably, the project will cost you more than you first thought. You also got got to employ the services of a good builder as it can be a long process and there are no quick fixes."
DJ and web-designer Chris Deakin knows this better than most. In 2005, he and his partner, Orla McCluskey, were looking for a renovation project. Having viewed Bookeen Hall, a listed former Church of Ireland building in Kiltullagh, near Athenery, Co. Galway, the couple were smitten with the prospect of taking on the job.
"We really liked the idea of living somewhere a bit different and the idea of restoring a grand old building appealed to us," says Mr Deakin.
After a protracted negotiation process, the couple eventually got the run-down property and its surrounding lands for €165,000. Three years later, the work is still not finished and Mr Deakin believes that they have invested almost €300,000 in the restoration. However, you're unlikely to hear any quibbles from him or his partner.
Since taking on the church and converting it into a 149sq.m. (1,600sq.ft.) three-bed, now in its final stages, Mr Deakin set up a website - www.formerglory.ie - for those who are interested in the sale, restoration and advertisement of old properties.
"I've always been interested in old buildings but found it difficult to locate these types of properties on conventional property websites," he says. "I decided to set up the website to link similar projects, give advice, as well as lists of useful contacts."
Jumping into a project with a misguided sense of urgency is one of the most common errors when it comes to a large scale restoration job, says architect and author Laura Bowen. Along with fellow restoration architect, Nicki Matthews, Bowen co-authored the book Reusing Farm Buildings: A Kildare Perspective (Kildare Co. Council, €20), which documents what prospective restorers should know in advance of buying a run-down property.
"You have to do your home work in advance of taking on a large-scale restoration project," she says. "You must investigate it and get a real sense of the house and its history. The most common mistake is that people treat the house as if it is a new property. Then they deal with builders who have only ever worked on new developments and don't have a clear sense of what they are doing."
Since the restoration of houses is in its infancy in this country, there's a lack of clear information about how to go about the process. The Department of the Environment have attempted to redress this with a series of booklets to increase awareness and to provide information on the basic principles and methods of conservation and restoration. These can be downloaded from the department's website - www.environ.ie. It's also worth remembering that grants are available for roof-repair work on some protected buildings. Details of these can be obtained from the Heritage Council's website - www.heritagecouncil.ie.
"You can obtain grants of up to €13,000 for the preservation of certain roof projects," says Mr. Howard.
While some may balk at the prospect of being tied up in bureaucracy as the architectural merits of a restoration project are debated, Mr. Deakin says he found the process of obtaining permission for conversion relatively easy.
"Although the building was completely rundown, we bought the Church without any planning so we were taking a bit of a chance. Originally, I thought that we would not be able to change the outward appearance of the property at all, but the conservation officer was very flexible and we were able to add a small extension and a second chimney."
Laura Bowen says that although the roof is probably the most important aspect of the structure to repair and maintain, people often make the mistake of spending their money on cosmetic alterations. "The roof and the chimney are the areas that people should focus on. People will naturally be inclined towards putting their money into flooring and decoration but there is no point in doing that stuff if you don't have the fundamentals correct," she says.
Similarly, people should be wary of taking on too much, too soon. "They start off a project in a blaze of enthusiasm and they strip the whole house down without knowing really what they are doing. It must be remembered that these houses are not new buildings. They are usually a couple of hundred years old and they have stood the test of time", she says.
"You have to stay true to the historical significance of the house. If you modernize these houses too much, it can take something away from the property. It would be like spending a lot of money on an antique and then painting it."
Experience is the key. Laura Bowen has taken on her own restoration project, a farm house in Co. Kildare. "We bought the house in 2003 and were about a year getting the documentation in place before we started on the work itself. It was a pretty big job as we had to move the house to face a different direction. We spent about a year turning the house around and working on it. Although there's a few more things to do, we're almost finished."
Another point worth noting is that proper finance has to be in place before you start. A medium to large scale restoration can be a significant drain on your pocket and the worst case scenario is running out of money before the major part of the restoration is completed.
"You've got to have a good budget in place," says restorer Tom Howard. "When we're looking at a building, we have to assume that everything needs to be fixed. In terms of cost - it's difficult to say but you'd have to factor in around €150 per square foot to repair it properly."
Mr Deakin says that his own original budget was between €200,000 to €250,000 and he'll easily exceed that. Bridging finance was required as well, which brought its own stresses. "A sympathetic bank manager is essential when it comes to something like this," he laughs. However, they have no regrets and the hunt is already on for the next house to restore. "We were all set to ditch the church last year. We went to look at a mill down in Tipperary and it was a fabulous deal - a three-storey building on seven acres with a river running through it", he says.
"The lot was €200,000. So I phoned up the bank manager and he politely suggested that we finish one project before taking on another. But we'll definitely take something else on. It's in our blood now."
THINGS TO REMEMBER
Do your home work
Know what you're getting into when it comes to a restoration project. It can be a hugely expensive project - both in terms of time and finance. Knowing what the project entails in advance is enough to put some people off. Remember that the house isn't a new build so don't treat it as such.
Advice
Never make the mistake of thinking you know it all when it comes to a restoration. "A good architect, excellent builder and a sympathetic bank manager are all essential if you're to succeed," says Chris Deakin. Get plenty of advice before doing anything major and take it all on board - after all, these people have more experience than you when it comes to a restoration.
Money talks
No matter how prepared you think you are, things will probably end up costing more than you estimated in the first place. Over budget for everything and you should have some wiggle room if things get out of control. "When buying houses on a bit of land, people tend to forget about the restoration of the gardens," says Tom Howard. "They can be expensive."
Take it slow
He who hesitates may be lost but he who ploughs into a restoration project head first may find that it's prohibitively expensive. There are no quick fixes to this sort of work - especially if you want to get it right.